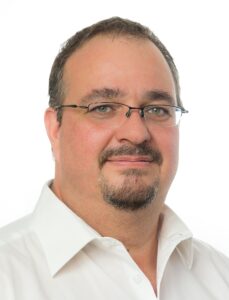 Yann Le Franc
Yann Le Franc, PhD is the CEO and Scientific Director of e‐Science Data Factory S.A.S.U. Created in 2014, e-Science Data Factory is a French R&D company aiming at proposing innovative solutions for data management to accelerate growth and progress. The company leverages its participation into European Research Infrastructure projects to provide cutting-edge services and develop innovative data management tools and architectures.
Yann Le Franc has a PhD in Neurosciences and Pharmacology in 2004. After a postdoctoral experience in the US, he worked on data management projects for Neurosciences in the context of the International Neuroinformatics Coordinating Facility (INCF) where he developed a strong expertise in ontology design and semantic web technologies. He then contributed to several Research Infrastructure projects (EUDAT, EOSC-Hub,…) as an expert partner on Semantic Web and ontology design and served as technical manager of the EOSC‐Pillar project as contractor for the French National Computing Center for Higher Education (CINES).
He is co‐chairman of the Research Data Alliance Vocabulary and Semantic Service Interest Group, of the FDO Semantic Group and a member of the EOSC Semantic Interoperability Task Force. He is actively involved in the FAIRification and standardization of semantic artefacts in the context of FAIRsFAIR, OntoCommons and FAIR Impact projects.