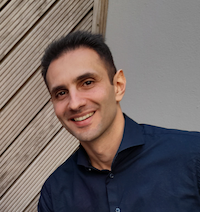 Pantelis Tziveloglou
Pantelis Tziveloglou works as policy officer at the Open Science and Research Infrastructures' unit of the European Commission's Directorate-General for Research and Innovation, contributing to the development and implementation of the European open science policy agenda including the relation of open science practices to reproducibility of research results, the development of the European Open Science Cloud, open science metrics and international cooperation on open science.
From 2015 until 2022 he held a post at the International Cooperation Directorate of the same Directorate-General, where he worked on the development of the EU's new international research strategy (adopted in 2021), the development and monitoring of international cooperation in Horizon Europe and Horizon 2020, and as a desk officer for scientific cooperation with Russia and Central Asia (2018-2019) and China (2019).
Before joining the European Commission, Pantelis worked as a researcher in high-energy physics at Vrije Universiteit Brussel (2013-2015), École Polytechnique of Paris (2010-2013) and CERN (2007-2010). He holds a PhD in physics from Cornell University.