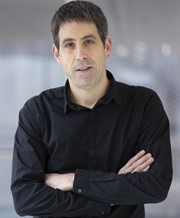 Gorka Epelde
Gorka Epelde is a Principal Researcher and Big Data Health research line lead at Vicomtech Foundation, Basque Research and Technology Alliance (BRTA) located in San Sebastian, Spain. Furthermore, he is a member of the eHealth group within the Bioengineering Area of the BioDonostia Health Research Institute.
Gorka possesses extensive expertise in interoperability architectures, data preparation and integration, synthetic data generation, as well as human-computer interaction. His primary areas of interest encompass Public Health and Health Informatics. In 2014, Gorka obtained his Ph.D. in computer science from the University of Basque Country, in the abstract user interfaces domain.
In addition to his research endeavours, he has taken on the role of coordinating several regional and national projects, along with providing support for EU project coordination, such as H2020 MIDAS, FP7 Si-Elegans, FP6 i2Home, and FP6 Vital. Currently, Gorka serves as the Technical Coordinator of the H2020 VITALISE (https://vitalise-project.eu/) and the HEU EOSC RAISE (https://raise-science.eu/) Research Infrastructure projects. He also holds the role of software ecosystem work package lead for the Cancer Mission HEU LUCIA project (https://luciaeuproject.technion.ac.il/), project which is focused on gaining a deeper understanding of lung cancer risk factors.